We Stand with Ukraine: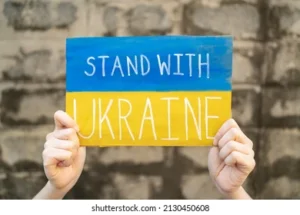 We are uniting against Putin's invasion and violence, in support of the people in Ukraine. We are coming from all places and all backgrounds in support of those under attack. We know: This is not "just" an attack against the Ukrainian people. This is a war against democratic values, human rights and peace.
1. We Stand with Ukraine – Amazon.co.uk® Official Site.
2. Kateryna Grace – STAND WITH UKRAINE 🇺🇦 (Original).
3. The UK stands with Ukraine. Russia's assault on Ukraine is an unprovoked, premeditated attack against a sovereign democratic state.
I stand with Ukraine, do you?

We Stand with Ukraine!!!
Ми з Україною!!!